The Evocative Landscape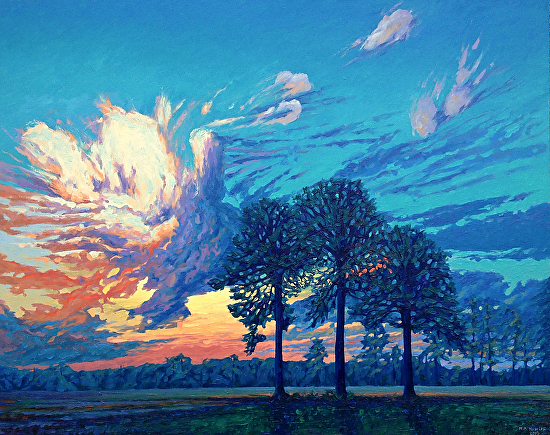 Place matters. Like most landscape artists, I am concerned with capturing a sense, or rather the spirit, of a place. Some artists seek to accomplish this by working on location and painting en plein air. I find that I need some distance – both physically and emotionally – from the places I paint. I need time to reflect, to distill my memories and focus on the aspects that truly affect me. I need time to paint with a sense of longing for the places I miss. To this end, I paint from a combination of memory and imagination in the studio, referring to field sketches and photographs as necessary to maintain my vision.
My intent is to capture an evocative feeling of the places and things I feel connected to. Most of my artwork features unpeopled landscapes, rooted in observed reality, that are reinterpreted through time, memory, and imagination and owe as much to my own interior perspective as they do to any particular place. I often work with a combination of digitally altered photographs and my own reference sketches to create dramatic compositions. Through the continual painting, scraping away, re-painting, scumbling, scrubbing, and just playing with the brush, the canvas accrues a patina like surface rich with textures and layers of color. There's a history of my life to be read in the thick impasto of paint. I seek a balance between subtlety and bold juxtapositions, between the landscape as it is and the one I imagine. Painting for me is an act of investigation. I'm trying to learn something about myself, the world, and my place in it.